Promotional Video of Hangzhou Normal University
杭州师范大学宣传片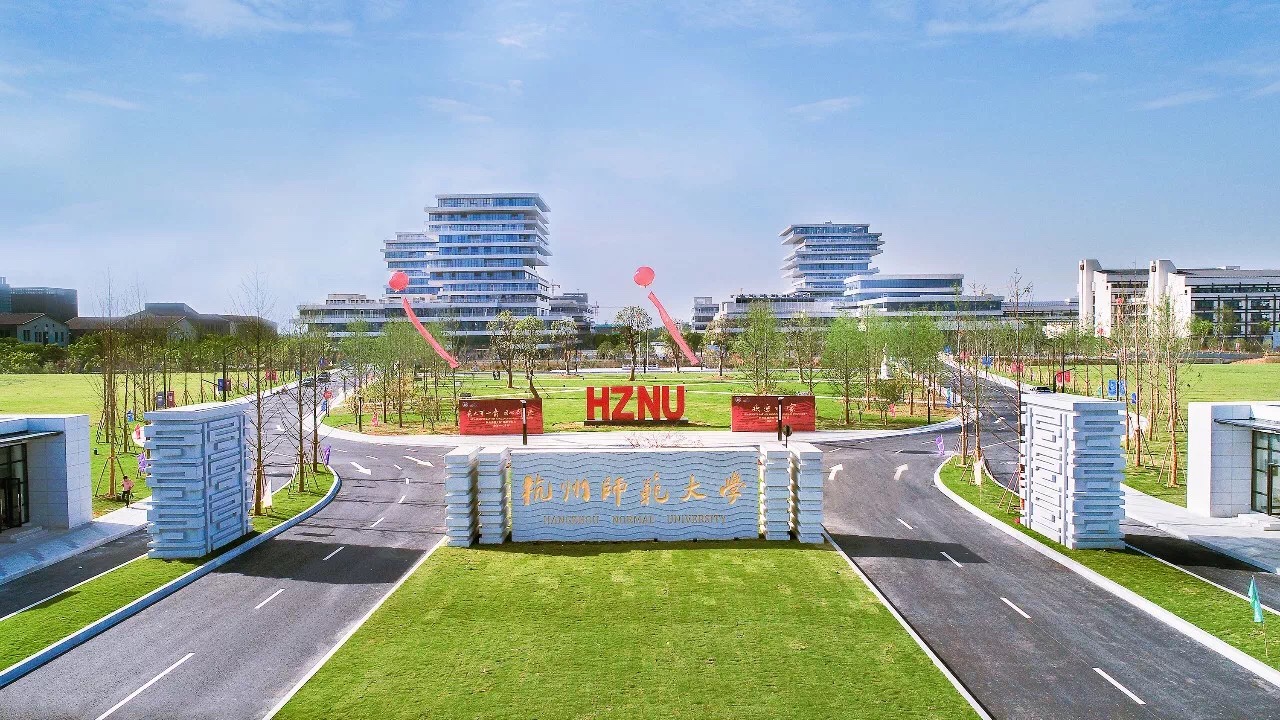 杭州师范大学是浙江省重点建设高校,是一所以师范教育为传统,文理并重,人文学科与自然学科协调发展的综合性大学。学校前身可追溯至创建于1908年的全国六大高等师范学堂之一的浙江官立两级师范学堂,1978年建立杭州师范学院,2000年前后杭州教育学院等五校相继并入,2007年更名为杭州师范大学。
百十年办学历程中,杭师大人秉承首任校长经亨颐倡导的"与时俱进"办学方针,坚持"勤慎诚恕、博雅精进"校训传承,弘扬"包容开放、学与俱进、追求卓越"师大精神,始终与时代同呼吸、与民族共命运,弘文励教、青蓝相继,自强不息、弦歌不辍,形成"人文学堂,艺术校园"办学特色。
学校环境优美、风光秀丽,现有仓前、玉皇山、下沙三个校区,分别位于杭州未来科技城、西湖之滨和钱塘江畔,占地面积179.3万平方米。学校下设23个学院(部)、1个直属附属医院(杭州市第二人民医院),有全日制在校生25209人(不含独立学院),其中全日制硕士生4229人、博士生68人,学历国际学生327人。现有教职工2457人,其中专任教师1760人(高级职称占比近57%),全职院士、共享院士、教育部长江学者、国家杰出青年科学基金获得者等国家和省级高层次人才80余人,全国优秀教师3人,学校入选首批省海外高层次人才创新创业基地。
学校有非独立法人资格中外合作办学机构杭师大哈尔科夫学院,先后与美国、英国、日本、澳大利亚、台湾等国家和地区30多所高校建立了校际合作交流关系,拥有来华留学生招生与培养资格,是全国首批来华留学质量认证试点工作院校。
Hangzhou Normal University started as Zhejiang Official Level-Two Normal School in 1908.It was renamed Zhejiang Provincial First Normal School in 1913. In times of upheaval, the university set changes in motion and emerged as Zhejiang's pioneer in democracy and science. In 1978, Hangzhou Teachers College was formed on the basis of Hangzhou Normal School. At the turn of the 21st century, multiple institutions were successively combined with Hangzhou Teachers College. 2007 marked the birth of the new Hangzhou Teachers College, officially today's Hangzhou Normal University.
The journey was full of challenges, but we persevered. Along the way, we at Hangzhou Normal University, one generation after another, have united around our motto "Diligence, Conscientiousness, Honesty and Generosity, Erudition, Elegance, Refinement and Excellence" to preach and practice teaching and learning as we moved with the times in an open and inclusive way while staying true to our shared vision. Since its 100th anniversary in 2008, HZNU has been pursuing a brand-new strategy of making itself a first-class university. A defining moment came when HZNU, which is now among China's top 100, was put on Zhejiang's agenda for key universities in 2017.
With 23 schools, and 1 affiliated hospital, Hangzhou Normal University has Cangqian, Xiasha and Yuhuangshan campuses, covering a total area of about 240 hectares, with a total construction area of 2.4 million square meters. It has nearly 2400 staff members and 1700 full-time teachers,and more than 24,000 full-time students, including more than 20,000 undergraduates, over 3,200 graduate students, and about 360 international degree students.
HZNU glitters with a galaxy of high-level scholars and scientists who are widely acknowledged provincially and nationally. Represented by 1 academician from Chinese Academy of Sciences, we have more than 80 top talents on provincial and national level,including Chang Jiang Scholars, Distinguished Young Scholars who got National Fund and 3 National Outstanding teachers.With its hard work, HZNU has been gaining strength and showing great advancement. With 6 of its disciplines in the top 1% of international ESI disciplines, the University is now among China's top 100 by ESI ranking and has secured a leading position among its provincial peers when it comes to the overall strength of disciplines.
HZNU keeps a close eye on the Belt and Road Initiative and follows closely what is going on globally. The University, which is among the first to be accredited by CEAIE for international student education,co-runs a Confucius Institute in partnership with Middle Tennessee State University in the United States,and a Joint Institute with Kharkiv National University in Ukraine.Friendly ties have been established with over 70 renowned universities around the world, confirming its belief that openness and inclusiveness should be the tone for international exchanges.