About LMU
黎明职业大学简介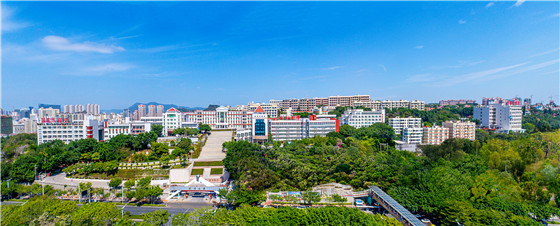 黎明职业大学是福建省泉州市人民政府举办的全日制综合性高职院校,是全国目前9所仍以职业大学命名的老牌高职院校之一,是国家双高计划建设单位、国家优质高等职业院校、2016-2020连续5年蝉联福建省高职高专院校发展潜力综合排名第一,办学能力、办学质量和办学水平位居全省前头、全国前列。
学校现占地751亩,全日制在校生16000多人,教职员工700多人,高级职称教师200多人,设有土木建筑工程学院、智能制造工程学院、商学院、文化传播学院、信息与电子工程学院、外语与旅游学院、新材料与鞋服工程学院、轻工学院、航空学院等9个招生学院、49个专业,形成以应用工科、现代生产性服务业为主的专业布局。学校提倡传授基础知识与培养专业能力并重,强化学生职业素养养成和专业技术积累,将专业精神、职业精神和工匠精神融入人才培养全过程,毕业生超过60000人。
学校与近20个国家和地区的60多所高校、机构签署了校际合作协议。自 2018年起,学校开始招收海外留学生,累计招收来自越南、缅甸、马来西亚、菲律宾、印度、印尼、韩国、老挝等8个国家的留学生134名。我们面向世界敞开大门,欢迎各国留学生到黎园学习交流。
Liming Vocational University (LMU) is a full-time multi-discipline institution of higher vocational education funded by Quanzhou Municipal People's Government. As one of the only 9 renowned higher vocational institutions that are allowed to bear the name of "vocational university", it has been included in Construction Plan of High-Level Vocational Colleges & Specialties with Chinese Characteristics and honored as National High-Quality Vocational Colleges, and reigned as No. 1 for five consecutive years between 2016 and 2020 in the comprehensive ranking of development potential of Higher Vocational Colleges in Fujian Province. What's more, LMU is also among the tops nationwide by virtue of its educational capacity and quality.
Covering an area of 751 mu, LMU now has more than 16,000 full-time registered students, above 700 teaching staff and beyond 200 teachers with senior professional titles, 9 schools in recruitment with 49 majors, including School of Civil Engineering and Architecture, School of Intelligent Manufacturing Engineering, School of Business, School of Culture Communication, School of Information and Electronic Engineering, School of Foreign Languages and Tourism, School of New Materials and Shoes & Clothing Engineering, School of Light Industry and School of Aeronautics, forming a professional layout focused on applied engineering and modern productive services. Advocating the equal importance of imparting basic knowledge and fostering professional skills, LMU urges students to develop professional quality and accumulate professional skills, and integrates the education of professional spirit, vocational ethic and craftsmanship spirit into the whole process of talent cultivation. Till now, more than 60,000 qualified talents have graduated from LMU.
LMU has signed inter-school cooperation agreements with more than 60 colleges and universities in nearly 20 countries and regions. Since 2018, LMU has begun to enroll overseas students. A total of 134 international students from 8 countries including Vietnam, Myanmar, Malaysia, Philippines, India, Indonesia, South Korea and Laos have been recruited. LMU is open to the world and welcomes students across the globe to study and exchange with us.