ZHEJIANG SCI-TECH UNIVERSITY
浙江理工大学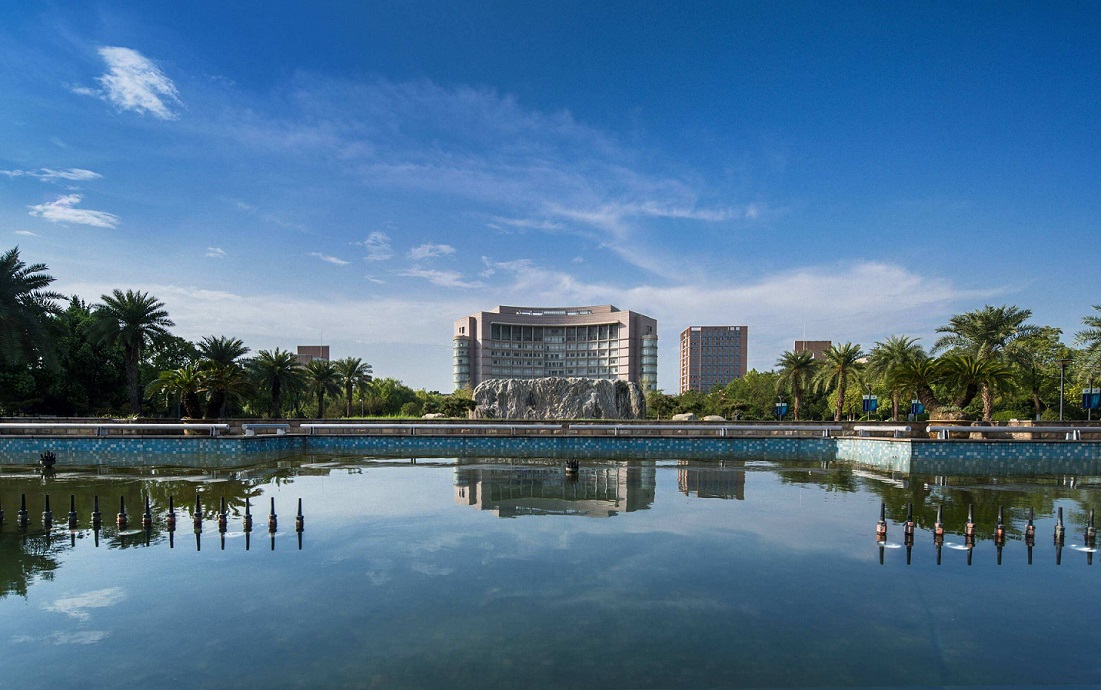 Zhejiang Sci-Tech University (ZSTU) is located in Hangzhou, a historical and cultural city, boasts a long history of schooling and covers a campus area of over 2100mu.
Silkworm School, precursor of ZSTU, was founded in 1897 by Lin Qi, governor of Hangzhou prefecture then, with the noble ambition to save the nation by engaging in industry and education, and was one of the earliest new-learning educational institutions ever founded in China. In 1908, Silkworm School was imperialistically promoted by the royal court of the Qing Dynasty to be Advanced Academy of Sericulture and Mulberry owing to its outstanding schooling achievements. The period of turmoil and chaos, from the Revolution of 1911 until the founding of the People's Republic of China, witnessed the changes of the names and locations of the institution for several times. However, no matter what hardships it underwent, it never gave up its commitment to schooling. After the founding of the PRC in 1949, the academic institution kept forging ahead and composed grand new chapters of its history. In 1959, it began its enrollment of undergraduate candidates. In 1964, the State Council named it Zhejiang Silk Engineering College. In 1979, it started to offer postgraduate programs and was authorized to confer master's degrees in 1983. With the approval of MOE, it was named Zhejiang Engineering College in 1999 and Zhejiang Sci-Tech University in 2004. In 2006, ZSTU began to have the authority to confer doctoral degrees. In 2010, with the approval of MOE, ZSTU began to be qualified to recommend excellent fresh undergraduates to take master's degree programs free of examination. In 2017, ZSTU was listed among the Zhejiang Provincial Key Construction Higher Educational Institutions.
ZSTU now is a provincial university focusing on engineering, with distinct characteristics and advantages as well as the coordinated development of the various disciplines of sciences, engineering, arts, economics, management, law, fine art, education, etc. ZSTU consists of 18 affiliated schools or colleges (teaching and research departments) and 1 independent college, with a population of over 29200 full-time on-campus students, and among whom 4460 are graduate students. At present, ZSTU offers 67 undergraduate programs of which 8 are the national (MOE) characteristic programs, 1 MOE comprehensive reform trail program, MOE "Outstanding Engineer Education and Cultivation Project" trial programs, 3 "MOE-Autodesk Professional Comprehensive Reform Programs", 7 "13th five-year" provincially advantageous programs and provincially characteristic programs. ZSTU boasts 2 doctoral degree first-level disciplines (including 12 doctoral degree second-level disciplines), 17 master's degree first-level disciplines and 6 independently-set master's degree second-level disciplines (66 master's degree second-level disciplines, altogether), is authorized to confer ME (including 13 ME categories), MFA, MBA, JM, MAP and MTI, and is authorized to confer master's degree to candidates of the same educational level. ZSTU has 1 provincial higher education top-key first-level discipline, 3 provincial higher education top-key (first-level) disciplines, 1 provincial higher education key research base of humanities and social sciences, 11 provincial higher education key disciplines, 6 provincial fist-rate disciplines of classification A and 7 provincial first-rate disciplines of classification B. The disciplines of material sciences, chemistry and engineering are listed among the global top 1% by ESI. ZSTU has 2 state-locality cooperative engineering laboratories, 2 national international sci-tech cooperation bases, 1 MOE key laboratory, 2 MOE engineering research centers, 1 MOC key laboratory, 3 provincial 2011 coordinated innovation centers, 10 provincial key laboratories and engineering technology research centers, 1 provincial philosophy & social sciences key research base, 5 provincial engineering laboratories, 2 provincial (technological) research centers, 2 provincial international sci-tech cooperation bases, 1 provincial academician & expert work station, 1 provincial DOC key research base, 1 provincial modern revolution history cultural research base, 3 national experimental teaching demonstration centers, 2 national virtual simulation experimental teaching demonstration centers, 2 national engineering practical education centers and 1 national college student off-campus practical education base. ZSTU has 4 national choicest video public courses, 5 national choicest resource sharing courses, 2 national bilingual teaching demonstration courses, 2 MOE foreign student in-English brand courses and 7 "12th five-year" nationally-planned textbooks. ZSTU has achieved 3 second prizes of national teaching awards.
ZSTU boasts a high-level faculty and staff of more than 2,000 personages, with over 880 associate professors and 260 professors. It has 2 MOE innovation teams, 7 provincial key sci-tech innovation teams, 1 provincial key cultural innovation team, 5 provincial higher-education innovation teams and 2 post-doctor scientific research mobile stations. ZSTU has 3 national "Ten Thousand Talent Program" leading talents, 1 MOE Yangtze River distinguished professor, 1 MOE Yangtze River lecturing professor, 1 winner of national NSFC outstanding young scientist foundation, 3 national "One Thousand Talent Program" experts (including 1 national "One Thousand Foreign Expert Program" expert), 5 national "New-century Thousands-of-talent Program" talents, 1 national outstanding contribution middle-young-aged expert, 1 Cultural Master & "Four Batches" talent, 5 MOE "New-century Excellent Talent Support Program" talents, 1 provincial top expert, 5 provincial "One Thousand Talent Program" (including 2 Seagull Program talents), 10 provincial higher education "Qiantangjiang River Scholar" distinguished professors, 9 provincial outstanding contribution middle-young-aged experts, 27 first-level cultivation talents of provincial "New-century 151 Talent Program", and 31 State Council government special subsidy personages. Additionally, ZSTU employs massive renowned experts and scholars from home and abroad as part-time professors and Jinsha Scholars.
ZSTU has ever been attaching importance to scientific research work, the research strength has been progressively enhanced, and ZSTU has successfully undertaken series of national sci-tech planning projects, as well as other national or provincial research projects in various fields. ZSTU has won 7 second prizes of State Technological Invention Award, 5 second prizes of State Sci-tech Progress Award, 1 Lu Xun Literature Award, 1 Ho Leung Ho Lee Foundation sci-tech innovation prize and 150 or so provincial or ministry prizes. The composite index of the sci-tech work has been ranking among the top of the provincial universities and colleges.
ZSTU has been sticking to its open schooling, has established its cooperation with over 100 educational and sci-tech research institutions of over 20 countries and areas, has cooperatively established 2 Confucius Institutes with University of Mauritius and University of Suriname, and the foreign student education has been rapidly developing.
ZSTU with a schooling history of 120 years is sparing no efforts to carry forward its school spirit of "pursuing truth and uprightness", to take new opportunities and start new journeys in the new era, and to stride forward to build the university into a high-level teaching-research-style institution of distinct characteristics as soon as possible.