Tianjin Normal University
天津师范大学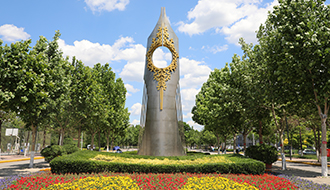 天津师范大学是天津市属重点院校,始建于1958年,原名天津师范学院,1982年更名为天津师范大学。1999年,原天津师范大学、天津师范高等专科学校、天津教育学院合并组建新天津师范大学。天津师范大学以"特色鲜明世界知名的高水平师范大学"为总体建设目标,是天津市唯一面向基础教育培养优质师资的师范大学。
学校以培养"四有"好老师为目标,厚植教育情怀,培养种子教师。先后获批教育部国家教师发展协同创新实验基地,教育部教师教育国家级实验教学中心,承接教育部"国培计划"、教育部卓越小学教师和卓越中学教师培养项目。在国家一流本科专业"双万计划"建设中,应用心理学、政治学与行政学、世界史、思想政治教育、教育技术学、小学教育、汉语言文学、数学与应用数学、地理科学、法学、新闻学等11个专业获批国家级一流本科专业建设点,体育教育、电子信息科学与技术、服装与服饰设计等3个专业获批天津市一流本科专业建设点。
在校全日制本科生24806人,全日制硕士研究生4896人,博士研究生501人,各类留学生2150人。教职工2396人,其中专任教师1444人,拥有高级职称921人,具有博士学位944人。
学校坚持推进对外开放办学。与33个国家和地区的177所大学、机构或地方政府建立友好合作关系。与韩国、日本、俄罗斯合作举办4个中外合作办学项目,获批首批国家教育部"来华留学示范基地"。具有国家政府、孔子学院、优秀青年外国留学生、"一带一路"建设专项、中外人文交流机制专项等国家政府奖学金接受院校资格。承办非洲首家孔子学院内罗毕大学孔子学院,所承办的四所孔子学院,10次获得"先进孔子学院"称号,1次获得孔子学院创立奖最高荣誉,被评为"孔子学院先进承办校"和"全球示范孔子学院"。
学校以坚持"特色立校、质量兴校、人才强校和改革创新"为发展战略,以争创"教学质量、科研能力、人才水平、学科实力和管理效能"国内一流为目标,为推动建成特色鲜明世界知名的高水平师范大学而不懈奋进!
1999, the new Tianjin Normal University was founded by integrating the old Tianjin Normal University, Tianjin Teachers' Training Academy, and Tianjin Educational Institute. Tianjin Normal University takes to be "a world-renowned high-level normal university with distinctive characteristics" as its overall development objective, and is the only normal university in Tianjin that trains high-quality teachers for basic education.
TNU aims at training good teachers with the "Four Haves"(to have moral ideals, ideals and beliefs, solid knowledge, and benevolent heart), enlightening their educational affection and incubating seeded teachers. It has successively been entitled as the National Collaborative Innovation Experimental Base for Teachers' Development of the Ministry of Education, the National Experimental Teaching Center for Teachers' Education of the Ministry of Education, and has undertaken "National Training Program" of Ministry of Education, and the Excellent Elementary School and Secondary School Teachers Training Projects of Ministry of Education. 11 undergraduate majors have been entitled as national-level first-class in the process of disciplinary construction of the "Double Ten Thousand Plan" (building 10,000 national-level first-class undergraduate majors and 10,000 provincial-level first-rate undergraduate majors), including applied psychology, political science and administration, world history, ideological and political education, educational technology, elementary education, Chinese language and literature, mathematics and applied mathematics, geographic science, law, and journalism, and three municipal-level first-rate undergraduate majors, including physical education, electronic information science and technology, clothing and apparel design.
The TNU has 24,806 full-time undergraduates, 4,896 full-time postgraduates, 501 doctoral students, and 2,150 international students of all kinds. It has 2,396 faculty and staff members, including 1,444 full-time teachers, among whom there are 921 senior positions and 944 PhDs.
Adhering to an open-to-the-world policy, TNU has established close relations with 177 universities, institutions or local governments in 33 countries and regions successively. There are four successful international education programs with other countries including South Korea, Japan and Russia. The TNU has become one of the first of "Demonstration Bases for Studying in China" of the Ministry of Education.
What's more, the TNU is entitled to enroll international scholarship students at all levels including national government scholarship, Confucius Institutes scholarship, outstanding international youth scholarship, the "Belt and Road" construction special fund, and the special fund of cross-cultural exchange mechanism.
The TNU has launched the first Confucius Institute in Africa--the Confucius Institute at the University of Nairobi. It has launched the other three Confucius Institutes subsequently. The TNU has won numerous awards like "Advanced Confucius Institute" for 10 times, the highest honor of the Confucius Institute establishment for once, and received titles of "Advanced Confucius Institute Hosting University" and "Global Model Confucius Institute".
The TNU adheres to the development strategy of "establishing the university with distinctive characteristics and high-quality, strengthening the university by talents, reform and innovation", and strives to achieve the goal of establishing a domestic first-class university by enhancing "educational quality, scientific research ability, level of talents, discipline strength and management efficiency". We will make unremitting efforts to make the TNU a distinctive world-renowned high-level normal university.