Overview of Northwest University of Political Science and Law
西北政法大学介绍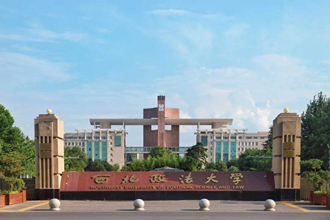 学校建于1937年,有长安、雁塔两个校区,现有全日制学生16000余人,专任教师1000余人,拥有本硕博完整的人才培养体系。学校现有哲学与社会发展学院,经济学院,法治学院、法律硕士教育学院,行政法学院(纪检监察学院),刑事法学院,民商法学院,经济法学院(知识产权学院),国际法学院等18个教学单位,承担研究生、本科生、留学生等培养任务。
Established in 1937, with Chang'an and Yanta 2 Campuses, NWUPL runs under a complete educational system, providing undergraduate, master, and doctoral programs, and currently has more than 16000 full-time students and more than 1000 full-time teachers. The university consists of 18 schools and departments, including the School of Philosophy and Social Development, School of Economy, School of Rule of Law (School of Juris Master), School of Administrative Law (School of Discipline Inspection and Supervision), School of Criminal Law, School of Civil and Commercial Law, School of Economic Law (School of Intellectual Property), and the School of International Law, etc, which contributes to the cultivation of graduate, undergraduate and overseas students.
近年来,学校主动融入"一带一路"倡议,把建设丝绸之路经济带法律服务高地作为高水平大学建设的重要内容,积极推进与丝绸之路经济带沿线国家高校的合作交流,先后与近20个国家和地区的70余所高校、机构和科研院所等建立合作伙伴关系,开展人才联合培养、共享优质教学资源、教师互访、科学研究等务实合作。
To actively engage in the Belt and Road Initiative, NWUPL prioritizes the construction of a legal service hub for the Silk Road Economic Belt as its endeavor to a high-level university and strives to collaborate with institutions of higher education along the Silk Road Economic Belt. So far, we have established the partnerships with more 70 universities, organizations, and institutes in nearly 20 countries and regions for the pursuit of the pragmatic cooperation, including joint training of students, sharing of premium educational resources, mutual visits between teachers, and scientific research collaboration, etc.
学校积极开展来华留学教育,设立"一带一路"来华留学生奖学金,面向一带一路沿线国家和其他国家的来华留学生开展本硕博层次的学历教育和非学历教育,致力于培养具有良好的语言技能、专业知识技能,通晓中外文化的复合型、应用型人才。
NWUPL actively carries out education for overseas students, setting up the Belt and Road Scholarship and provides both the degree programs at undergraduate, master, and doctoral level, and the non-degree training programs. The university devotes itself to cultivating versatile and applied talents with language fluency, professional expertise, and a comprehensive understanding in both Chinese and foreign cultures.
学校秉承"严谨、求实、文明、公正"的校训,紧紧围绕立德树人根本任务,持续推动高质量内涵式发展,正昂首阔步朝着建设教学研究型高水平大学目标努力奋斗!
Following the motto of preciseness, truth-seeking, civilization, and justice, and firmly advancing the cardinal task of moral education and talent cultivation, NWUPL is making constant efforts to promote high quality development for the pursuit of building a teaching and research university at a superior level.