Hebei University of Science and Technology (HEBUST)
河北科技大学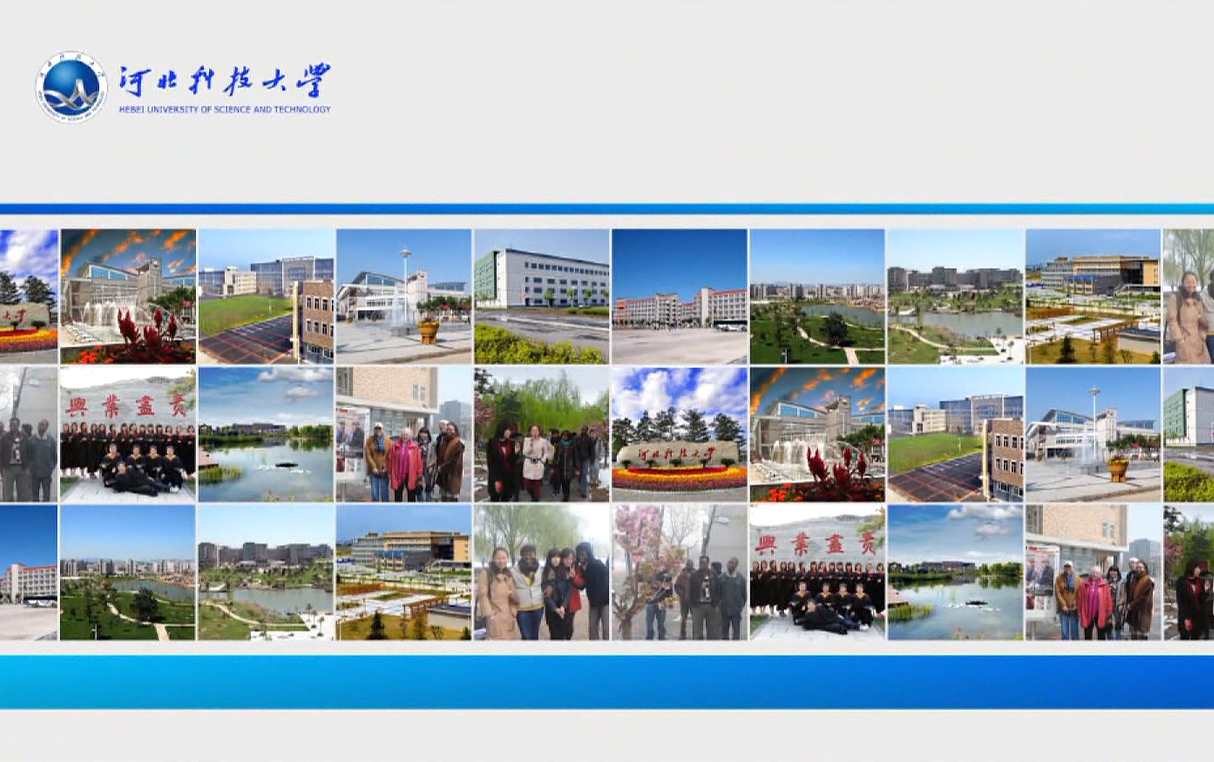 河北科技大学坐落于河北省石家庄市,占地2760亩,由原河北轻化工学院、河北机电学院、河北省纺织职工大学、河北纺织工业学校合并组建而成。1956年举办高等教育,在多年的办学历程中,学校始终坚持"致力于人的全面发展,服务于区域经济建设和社会进步"的办学宗旨,秉承"兴业、尽责"的校训和"进取、协作、奉献"的科大精神,为国家培养了30余万优秀毕业生。学校是河北省首批重点建设的多科性骨干大学、河北省人民政府与国家国防科技工业局共建高校、河北省重点支持的国家一流大学建设高校、教育部"卓越工程师教育培养计划"高校。
学校设有21个教学学院(部),79个本科专业,学科专业涵盖工、理、文、经、管、法、医、教育、艺术九大门类。现有9个省级重点学科、1个省级重点发展学科,1个学科入选河北省世界一流学科建设项目、2个学科入选河北省国家一流学科建设项目。工程学学科位于ESI世界排名前1%。拥有25个硕士学位授权一级学科,3个硕士学位授权二级学科,15个专业硕士学位授权类别。学校现有全日制本科生、研究生、留学生23000余人,教职工2400余人,特聘中外院士5人,新世纪百千万人才工程国家级人选2人,享受国务院特贴专家、省高端人才等各类高层次人才150余人次,全国优秀教师2人,省级教学名师15人。
学校先后获国家级教学成果二等奖1项、省级教学成果奖66项,获批国家级"本科教学质量与教学改革工程项目"29项。5个专业入选"卓越工程师教育培养计划"试点专业,5个专业通过中国工程教育专业认证,8个专业入选国家级一流本科专业建设点,25个专业入选省级一流本科专业建设点。1门课程被认定为国家级一流本科课程,1门课程被评为国家精品在线开放课程,43门课程被认定为省级一流本科课程。2020年全国高校学科竞赛排行榜中,位列全国第77位、河北省第2位。学校被评为全国创新创业典型经验高校、全国深化创新创业教育改革示范高校。本科毕业生去向落实率居省属高校前列,培养出中国科学院院士韩布兴、中国工程院院士任洪强等优秀校友,连续四年入选中国大学富豪校友排行榜百强高校。
学校先后获国家科技进步奖二等奖1项,全军科技进步一等奖1项,全国高等学校技术发明二等奖1项。获得省部级科技奖励210余项,其中一等奖15项、二等奖65项。取得各类专利授权2500余项,出版著作1200余部。与370个地方政府及行业组织、企事业单位建立了科技教育合作关系,学校作为建设单位拥有26个省部级以上科技创新平台,加入国家产业技术创新联盟3个、省产业技术创新战略联盟5个。学校获批"国家技术转移示范机构",在上海软科2019全国高校成果转化排名中位列全国第98位、河北省第4位,全国科技服务排名中位列全国92位、河北省第2位。2018年学校入选"自然指数"中国内地高校前200榜单。《河北科技大学学报》入编北大《中文核心期刊要目总览》。
学校与24个国家的109所大学和科研机构开展了交流与合作,现有澳联大信息工程学院(下设4个计算机信息类专业)以及服装与服饰设计、产品设计、金属材料工程、环境科学、工业设计工程5个中外合作办学专业。开设全英语授课专业15个,招收来自30余个国家(地区)的留学生。河北省首家韩国世宗学堂落户我校。在大学国际化水平排名(2017URI)中位列全国高校99位。获批河北省外专百人计划、国际科技合作基地等19项,获评"河北省引才引智十佳单位"等称号。
Hebei University of Science and Technology (HEBUST) is located in Shijiazhuang, Hebei Province, covering an area of 2,760 acres. It was formed by the merger of the original Hebei Institute of Light and Chemical Technology, Hebei Institute of Mechanical and Electrical Engineering, Hebei Textile Workers College, and Hebei Textile Industry School. In 1956, it formally became a place of higher education. Since its founding, HEBUST has always adhered to the mission of "committing to the all-round development of people, serving the regional economic construction and social progress", additionally adhering to the school motto of "prosperity, conscientiousness", and "enterprising, Collaboration, dedication" school spirit. HEBUST has trained more than 300,000 outstanding graduates for the country and the world. HEBUST is one of the first batch of key multi-disciplinary backbone universities in Hebei Province, a university jointly built by the People's Government of Hebei Province and State Administration of Science, Technology and Industry for National Defence, PRC. A national first-class university construction supported by Hebei Province, and a university under the "Outstanding Engineer Education and Training Program" of the Ministry of Education.
The university has 21 teaching schools (departments), 79 undergraduate majors, covering nine categories of engineering, science, literature, economics, management, law, medicine, education, and art. There are nine provincial-level key disciplines, one provincial-level key development discipline, one discipline selected as a world-class discipline construction project of Hebei Province, and two disciplines selected as the national first-class discipline construction project of Hebei Province. Engineering disciplines are in the top 1% of the ESI world rankings. It has 25 first-level disciplines for master's degree authorization, three second-level disciplines for master's degree authorization, and 15 professional master's degree authorization categories. HEBUST currently has more than 23,000 full-time undergraduate, postgraduate, and international students. It also has more than 2,400 faculty members, 5 specially-appointed Chinese and foreign academicians, 2 national-level candidates for the New Century Talent Project. There are over 150 talents enjoy various types of experts from the State Council and provincial high-end, two national outstanding teachers, and 15 provincial-level teaching teachers.
HEBUST has successively won one second-class national teaching achievement award, 66 provincial teaching achievement awards, and 29 national "undergraduate teaching quality and teaching reform projects" have been approved. Five majors were selected as pilot majors of the "Excellent Engineer Education and Training Program", and five majors passed the Chinese Engineering Education Professional Certification. Eight majors were selected as national first-class undergraduate majors, and 25 majors were selected as provincial-level first-rate undergraduate majors. One course was recognized as a national-level first-class undergraduate course, while one course was rated as a national top-quality online open course, and 43 courses were recognized as provincial-level first-class undergraduate courses. In the 2020 National University Subject Competition Rankings, it ranks 77th in the country and 2nd in Hebei Province. HEBUST has been rated as a national model university of innovation and entrepreneurship experience and a national model university for deepening innovation and entrepreneurship education reform. The implementation rate of undergraduate graduates ranks in the forefront of provincial universities, and HEBUST has cultivated outstanding alumni such as Han Buxing, academician of the Chinese Academy of Sciences, Ren Hongqiang, academician of the Chinese Academy of Engineering, and has been selected as one of the top 100 universities in the rich alumni list of Chinese universities for four consecutive years.
HEBUST has successively won second prize of the National Science and Technology Progress Award, first prize of the Army's Science and Technology Progress Award, and second prize of the National Technical Invention Award for Higher Education. It has won more than 210 provincial and ministerial-level science and technology awards, including 15 first prizes and 65 second prizes. It has obtained more than 2,500 various patent authorizations and published more than 1,200 books. It has established scientific and technological education cooperation relations with 370 local governments, industry organizations, enterprises, and institutions. As a construction unit, HEBUST has 26 scientific and technological innovation platforms at or above the provincial and ministerial level. It has joined three national industrial technology innovation alliances and five provincial industrial technology innovation strategic alliances. HEBUST was approved as a "National Technology Transfer Demonstration Institution" and ranked 98th in the country in the Shanghai Soft Technology's 2019 National University Achievement Transformation Ranking, 4th in Hebei Province, and ranked 92nd in the country in the National Science and Technology Service Ranking, and 2nd in Hebei Province. In 2018, HEBUST was selected as one of the top 200 universities in Mainland China by the Nature Index. Journal of Hebei University of Science and Technology was included in the Overview of Chinese Core Journals of Peking University.
HEBUST has carried out exchanges and cooperation with 109 universities and scientific research institutions in 24 countries. HEBUST currently has FedUni Information Engineering Institute (with four computer information majors) and five joint education programs including clothing and apparel design, product design, metal material engineering, environmental protection and science and industrial design engineering. There are 15 majors taught in English, and international students from more than 30 countries or regions are enrolled. The first Korean Sejong Academy in Hebei Province settled at our school, which is ranked 99th among universities in the country in the University Internationalization Level Ranking (2017URI). Nineteen projects are included in the Hebei Province Foreign Experts Hundred Talents Program and the International Science and Technology Cooperation Base were approved and awarded the title of "Hebei Province Top Ten Units for Introducing Talents".