International Students Wearing Hanfu Experience Traditional Chinese Culture Activities --- Visiting the Natural Scenic Spot of Shiyan Lake
开展留学生汉服文化体验活动---石燕湖自然景区之行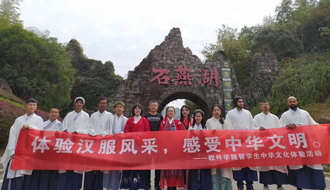 In order to give international students a deeper understanding of Hanfu culture and traditional Chinese clothing, Hunan Vocational College of Science and Technology on November 23, 2019 organized all international students to Shiyan Lake in Changsha Yuhua District, Hunan Province, China experience Hanfu culture.
为了让来华留学生更深入地了解汉服文化和中国的传统服饰,湖南科技职业学院于2019年11月23日组织全体在校来华留学生在湖南省长沙市雨花区石燕湖自然景区开展了关于汉服文化的体验活动。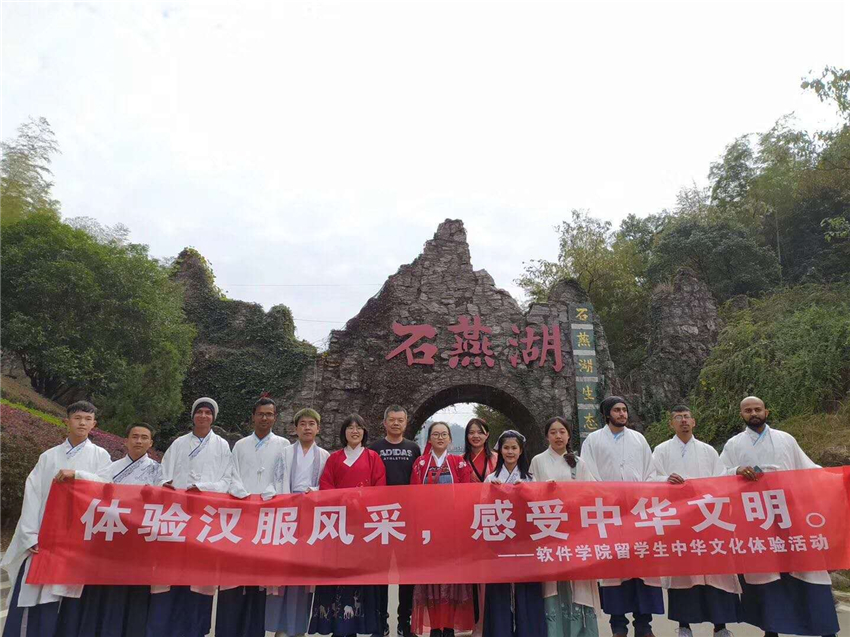 In addition to wearing Hanfu and walking around the natural scenery, the school carefully prepared a variety of Chinese characteristics of cultural practice tours, such as "Flower Archery", "Canoeing Tea Art", "Guan Gong blessing" and so on, which not only shows the beauty of traditional clothing, but also makes foreign students feel the unique charm of traditional Chinese culture. Xin Rong, a student from Laos, sighed, "Hanfu is so beautiful and I want to buy some Hanfu for my family and friends, so that they can also appreciate and experience."
除了汉服游园以外,同时还精心准备了各种中国特色文化习俗的实践之旅,如"插花射箭"、"泛舟茶艺"、"关公祈福"等,不仅呈现出传统服饰之美,还让来华留学生感受到传统文化的独特魅力。来自老挝留学生新荣感叹道:"汉服太美了,我想买一些汉服送给我的家人和朋友,让他们也欣赏、体会一下"。
"I am dressed in splendid Chinese clothes, take a boat to enjoy the lake view and feel the Chinese culture. " Frank, an international student from Pakistan, is excited to say that he is full of harvests in the Shiyan Lake Hanfu event, and he hopes that more people will come to China, even come to Changsha, Hunan Province, to feel the weight of ancient Chinese culture, and to experience the five-thousands-years history of China.
"身着锦绣汉服,霓裳翩跹,游湖泛舟,感受华夏文化。"来自巴基斯坦留学生Frank兴奋地表示此次在石燕湖汉服活动中收获满满,他希望更多的人能来到中国,来到湖南长沙,感受中国古代文化的厚重,体会历史悠久的五千年中华民族传统文化底蕴。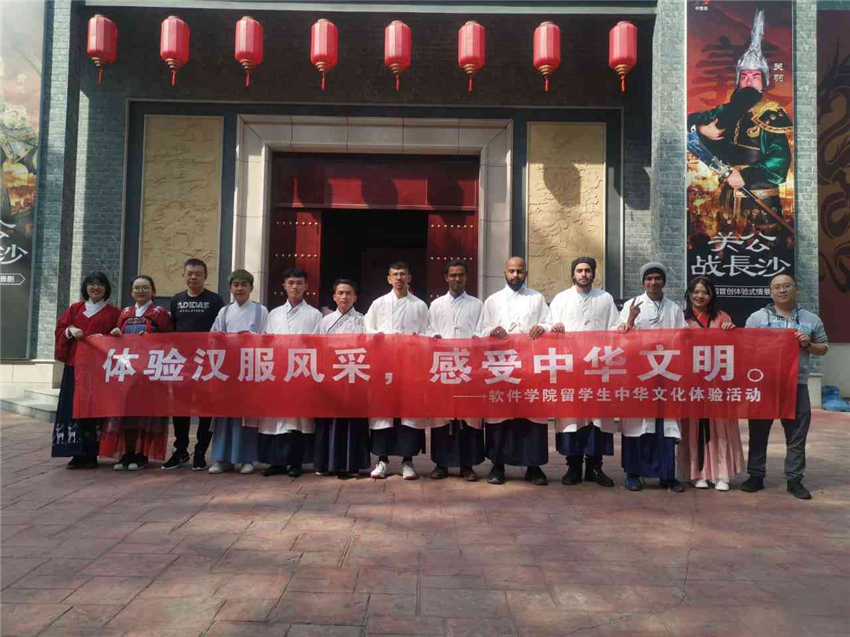 This cultural experience activity appropriately combines Chinese cultural theory and practice, in order to let international students deeply comprehend the ancient Chinese etiquette culture, feel the charm of Chinese culture more intuitively. Our school, as a promoter and practitioner of international cultural exchanges, deeply learns and practices President Xi Jinping's new initiative on "Civilization is colorful because of exchanges. Civilization is enriched by mutual learning." Followed by that, our school constantly enriches the teaching method of Chinese theory and strives to explore how to introduce Chinese culture to international students in a more vivid and interesting way, strengthen multi-cultural exchanges and mutual learning, and build a community of human destiny.
此次文化体验活动巧妙地将中国文化理论和实践结合在一起,为的是让留学生深刻地理解中国古代文化礼仪,更加直观感受到中国文化的精髓。我校深入学习践行习近平总书记关于"文明因交流而多彩,文明因互鉴而丰富"的新举措,积极充当国际文化交流的推动者与实践者,在不断丰富汉语理论教学的基础上,努力探索如何以更生动,更有趣的方式向国际学生介绍中国文化,理解中国文化,加强多元文化的交流互鉴,夯实共建人类命运共同体的人文情怀。