Introduction to the School
学校简介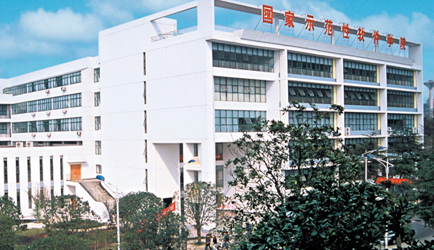 Hunan Vocational College of Science and Technology, which is run by Hunan Provincial Education Department and organized by Hunan China Vocational Education Association, is a public higher vocational college jointly established by the Hunan Provincial People's Government and the China Vocational Education Association, with a history of running schools for more than 60 years. The college adhering to the "sincere to the public, proficient in professional work and willing to work" school motto, adhere to the "quality school, strong talent school, open school, innovative school" school philosophy, training a large number of high-quality technical skills, and achieved a number of scientific and technological innovation and social service results. The school is the national model backbone higher vocational colleges and Hunan Province's only approved national model software vocational and technical colleges and universities, Hunan Province outstanding vocational college construction units. The school has won the honorary title of China Software Industry Development Promotion Agency, National Advanced Unit of Higher Vocational College Research, Civilized Unit of Hunan Province, and other Outstanding Unit of Employment of Graduates of Hunan Province General Universities.
湖南科技职业学院由湖南省教育厅主管,湖南中华职业教育社举办,是湖南省人民政府与中华职业教育社共建的公办高等职业学院,具有60多年办学历史。学校秉承"至诚至公、精业乐业"的校训,坚持"质量立校、人才强校、开放办校、创新兴校"的办学理念,培养了大批高素质技术技能人才,取得了多项科技创新与社会服务成果。学校是国家示范性骨干高职院校和湖南省唯一获批国家示范性软件职业技术学院的高等院校。学校先后荣获中国软件产业发展推动机构、全国高职高专科研工作先进单位、湖南省文明单位、湖南省普通高校毕业生就业一把手工程优秀单位等荣誉称号。

The school is based in Hunan Province, insisting on academic education and social training. The school set up eight secondary research institutes, such as Humanities and Music Institute, Software Institute, Artificial Intelligence Institute, Art and Design Institute (Xiang Porcelain Institute), Intelligent Equipment Technology Institute, Business Institute, Pharmacy Institute, Continuing Education Institute, etc., forming a professional system with three specialty groups of Information Technology, Design Art, Intelligent Equipment Technology as the focus, Trade Services, Biomedicine two professional groups as the support of the advantages of the obvious professional system.
学校立足湖南,坚持学历教育和社会培训并举,设有人文与音乐学院、软件学院、人工智能学院、艺术设计学院(湘瓷学院)、智能装备技术学院、商学院、药学院、继续教育学院等8个二级学院,形成了以信息技术、设计艺术、智能装备技术3个特色专业群为重点,以商贸服务、生物医药2个专业群为支撑的优势明显的专业体系。

The school adheres to open schools and actively carries out international cooperation, and has cooperated with over 10 universities in many countries, such as Anglia Ruskin University in UK and Griffith University in Australia, and organized teachers to study in the USA, Canada, France, Japan and other foreign institutions. With the "Belt and Road" strategy in-depth promotion, the school accurately meets the talent training needs of various countries and opens up projects for international students to China. We will promote the co-construction and sharing of education with overseas countries and improve the ability of our higher vocational education to export to the outside world.
学校坚持开放办学,积极开展国际合作,先后与英国安格利亚鲁斯金大学、澳大利亚格里菲斯大学等多个国家的十多所大学合作交流,并组织教师赴美国、加拿大、法国、日本等境外院校进修。随着"一带一路"战略的深入推进,学校精准对接国际人才培养需求并开设来华留学生项目。推进与境外国家的教育共建共享,提高我校高职教育对外输出能力。