Wenzhou University Promotional Video
温州大学介绍片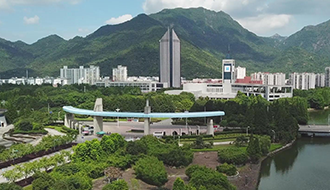 温州大学是浙南闽北赣东地区唯一的综合性大学、浙江省"省市共建"重点高校,坐落于中国历史文化名城、素有"东南山水甲天下"之美誉的温州市。学校办学源头可追溯至1933年创建的温州师范学校,已有87年办学历史,国家最高科学技术奖获得者谷超豪院士曾任校长。
温州大学现已形成本科教育、研究生教育、继续教育、留学生教育、国际合作教育等多层次、多形式并举的办学格局。学科涵盖文学、理学、工学、哲学、法学、教育学、经济学、历史学、管理学、艺术学等十个门类。设有19个学院,举办瓯江学院(独立学院)。
学校现有茶山和学院路两个校区,占地1578.18亩,校舍面积77.52万平方米,教学科研设备总值7.39亿元,馆藏纸质图书203.5万册,电子图书184.48万册,中外文电子期刊和资料数据库107个。学校有专任教师1199人(博士708人,占59.05%;高级职称677人,占56.46%),建有国家引才引智示范基地,拥有全职院士、双聘院士、长江学者、国家杰青、国家有突出贡献中青年专家、国家百千万人才、国家优青、中宣部"四个一批"人才等国家级人才32人(其中全职25人),现有各类省级以上高层次入选人才139人(269人次)。
Wenzhou University (WZU), the only comprehensive university in the regions across southern Zhejiang, northern Fujian, and eastern Jiangxi, is located in Wenzhou, a prestigious city known for its historical and cultural fame and the honor of having "the most beautiful waters and mountains in southeast China". Its history can be traced back to 1933. In the past 87 years, WZU has stayed true to its motto of "strengthening the nation and prospering the people". Its continuous self-improvement and hard work have contributed to its sustaining culture and robust development.
WZU has formed multi-type and multi-level educational patterns comprised of undergraduate programs, postgraduate programs, continued education programs, international student programs, and international cooperative education. The disciplines cover arts, science, engineering, law, education, economics, history, management, and fine arts. It has 19 faculties in total and an independent college— Oujiang College. It excels particularly in "teacher training" and "innovation and entrepreneurship education", and also boasts of strengths in engineering education, literal arts basic education, and overseas Chinese education.
With two campuses respectively located on Chashan Town and Xueyuan Road, WZU covers a total land area of 1,322,573.33 sq.m. (approximately ). The school buildings cover an area of 1,002,000 sq.m.; the teaching and scientific research equipment totals a value of 72 million Yuan. The main campus has a library collection of 1,727,000 paper books and a collection of 1,826,000 E-books, as well as various electronic periodicals in Chinese and foreign languages and 93 information databases.