Yanshan University
燕山大学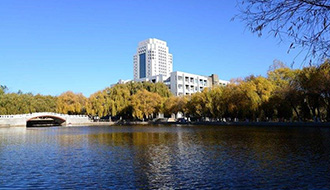 燕山大学是河北省人民政府、教育部、工业和信息化部、国家国防科技工业局四方共建的全国重点大学,河北省重点支持的国家一流大学和世界一流学科建设高校,北京高科大学联盟成员。
学校占地面积4000亩,建筑面积106万平方米。现有普通高等教育在校生38000人。现有教职工3200人,包含专职教师2200人,其中,教授489人,副教授667人。教师中含博士生导师331人。有中国科学院院士2人,国家"万人计划"入选者5人,长江学者奖励计划特聘教授10人,国家杰出青年科学基金获得者11人。
学校设有11个博士后流动站,14个博士学位一级学科,1个专业博士学位类别,30个硕士学位一级学科,17个专业硕士学位类别,64个本科专业,已形成以工学为主,文学、理学、经济学、管理学、法学、艺术学、教育学等8个学科门类共同发展的学科格局;拥有5个国家重点学科、5个国防特色学科和16个省级重点学科,工程学、材料科学、化学、计算机科学4个学科进入ESI排名全球前1%。在全国第四轮学科评估中,8个学科获得B类以上评估结果,其中机械工程为A类,全国排名前10%,材料科学与工程为B+,全国排名前20%。
燕山大学积极推进教育对外开放,构建全球国际交流与合作网络,与20多个国家和地区的80余所国(境)外高水平大学和科研机构建立了友好合作关系,在学生联合培养、教师学术交流、科学研究项目等方面开展长期、广泛的合作。学校积极响应国家"一带一路"倡议,全面实施国际化发展战略,致力于培养具有全球竞争力的和全球视野的高素质对外开放人才,不断提升学校的国际影响力和教育对外开放水平。
以服务国家装备制造业、战略性新兴产业、国防科技工业和区域经济社会发展为己任,燕山大学4万余名师生员工意气风发,解放思想,锐意进取,科学发展,为把学校建设成为"特色鲜明、国内一流、世界知名的研究型大学"而不懈奋斗。
燕山大学诚挚欢迎来自世界各地的国际学生!
Yanshan University (YSU), co-constructed by Hebei Provincial Government, Ministry of Education, and Ministry of Industry and Information Technology, is the major university supported by Hebei Province in the development of national first-class universities and world first-class disciplines. YSU is a member of the Cooperation Consortium of Beijing High Technology Universities.
YSU encompasses 266.67 hectare of grounds with a total floor area of 1.06 million square meters. YSU currently is attended by 38,000 students receiving higher education. YSU has 3200 faculty staff, 2200 of whom are full-time teachers including 489 professors and 667 associate professors (331 of them are doctoral supervisors). YSU has two Academician of Chinese Academy of Sciences, 5 distinguished professors from the Ten-thousand Talents Program, 10 professors from the Changjiang Scholars Program, and 11 recipients of the China National Funds for Distinguished Young Scientists.
YSU offers 11 postdoctoral research programs and confers doctorates in 14 first-level disciplines and in 1 professional doctoral program. YSU grant master's degrees in 30 first-level disciplines and professional master's degrees in 17 disciplines. YSU's 64 undergraduate programs covers 8 disciplines including engineering, liberal art, science, economics, management, law, fine arts, philosophy, and education. YSU has 5 national key disciplines, and 16 provincial key disciplines. YSU's specialties of engineering, materials science, chemistry, and computer science have recently been ranked in the ESI's top 1%. In the fourth national discipline assessment exercise, YSU was awarded a Class B ranking and above in 8 disciplines, of which the discipline of Mechanical Engineering was awarded a Class A ranking, which positioned it in the top 10% for this discipline in China. The discipline of Materials Science and Engineering was awarded a Class B+ ranking, which put it in the top 20% for this discipline in China.
YSU values and promotes the opening-up of education to the outer world and such that builds a global network of international exchanges and partnerships. The university has established various successful relationships with over 80 high-level universities and scientific research institutions in more than 20 countries and regions and worked in a wide range of programs such as joint education, teaching staffs' academic exchanges, and scientific research projects. In support of China's Belt and Road Initiative, YSU implements an international development strategy and is committed to cultivating talents with global perspectives and competitiveness in order to develop YSU into an university with high-level of international influence and educational opening-up.
The mission of YSU is to aim at achieving and maintaining excellence in its teaching and research. In support of this aim the university will provide the facilities and support for its staff to pursue innovative research by responding to developments in the intellectual environment and serving country's equipment manufacturing industry, strategic emerging industries, regional economy, and social development at large through the fruits of its research and the skills of its graduates. Over 40,000 vigorous students, faculty and staff will spare no efforts to develop YSU into a national first-class and internationally renowned research university.
Yanshan University sincerely welcomes international students from all over the world!