Melodic Confucius Institute CCOM & CI :8 Years of Achievements
《"乐动孔院"央音•孔院8周年成果回顾》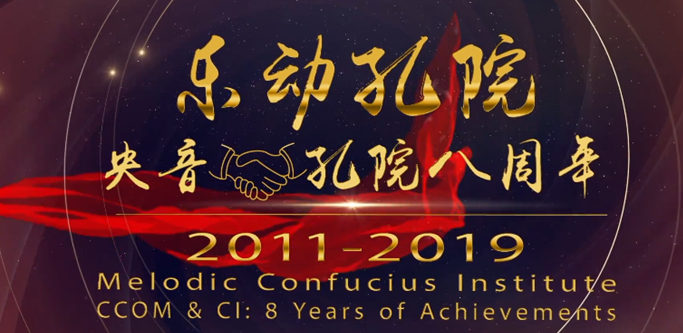 2011年10月,中央音乐学院成立音乐孔子学院筹备办公室,规划与丹麦皇家音乐学院合作建设全球首家"音乐孔子学院",在孔子学院总部的大力支持下,音乐孔子学院于2012年6月时任国家主席胡锦涛首访丹麦期间正式揭牌,由此,"央音"与"孔院"结下了不解之缘。
2014年,中央音乐学院与孔子学院总部共建全国唯一的音乐特色汉语国际推广基地——"中外音乐文化交流与体验基地";2019年6月,中央音乐学院与乌克兰国立柴可夫斯基音乐学院共建的独立"音乐孔子课堂"揭牌;2020年3月,中央音乐学院附中与英国切特姆音乐学校共建的全球首家"中文音乐教室"将举办揭牌仪式。
回顾8年历程,随着音乐孔子学院(课堂)从无到有、发展壮大,越来越多的"央音人"活跃在各国孔子学院舞台上,央音与孔院的携手,不仅让央音为孔院发展增添活力,也让孔院为央音走向世界插上翅膀,共同为建设交流互鉴、开放包容的世界贡献力量。
In October 2011, Central Conservatory of Music (CCOM) decided to set up a preparatory office to be in charge of building the world's first "Music Confucius Institute (MCI)". Under the support of the Confucius Institute Headquarters (CIHQ), Music Confucius Institute, co-established by CCOM and the Royal Danish Academy of Music (RDAM) was inaugurated during the then Chinese president Hu Jintao's first visit to Denmark in June 2012. Since then, CCOM and CI have become closely connected to each other.
In 2014, CCOM and CIHQ jointly established the Center for International Music Culture Exchange, for the first time adding music features to an International Promotion Base of Chinese Language. In June 2019, an independent "Music Confucius Classroom (MCC)", co-established by CCOM and Ukrainian National Tchaikovsky Academy of Music, was inaugurated.The Plaque Unveiling Ceremony of world's first Chinese Music Classroom, co-established by CCOM Middle School and Chetham's School of Music, will be held in March 2020.
Looking back on the eight-year history, with the Music Confucius Institute (Classroom) starting from scratch and growing from strength to strength, we can see more and more CCOMers playing an active role on the stages of Confucius Institutes around the world. In the cooperation between CCOM and CI, CCOM lends vitality to the development of the CI, while the CI gives wing to CCOM's efforts to go global. Such cooperation contributes to the building of an open and inclusive world of exchanges and mutual learning.