山东省是中国古代齐国和鲁国所在地。在漫漫历史长河中,齐鲁文化孕育发展了礼乐文明,造就了文艺高峰。如今的山东,历经几千年沧桑变化,在文艺方面兼收并蓄,焕发出勃勃生机。

Shandong is the location of the ancient Qi and Lu states. Over the course of time, their cultures fed the development of etiquette, music, and civilization, leading to a golden age of art and culture. With changes that have taken place over several millennia, Shandong's art and culture beams with vitality by having embraced all that has come its way.
山东省杂技团三次荣获"金小丑"奖
杂技艺术在中国已经有2000多年的历史,是中华民族珍贵的优秀文化遗产。山东省杂技团是一支具有国际水准的优秀杂技团。山东省杂技团创建于1959年6月,已经有60多年的历史,在艺术上基于传统而不囿于陈谷,博采众长,融会贯通,以创新为主线,努力体现杂技艺术的美、难、新、奇,逐步形成了自己的艺术风格,在世界马戏圈内享有盛誉,先后荣获国内外各类奖项70余项,国际金奖14项。其中,经典节目《蹬板凳》《车技》《激昂青春——蹬人》分别荣获第10届、第21届和第34届蒙特卡洛国际马戏节"金小丑"奖;《蹬人》荣获2007年法国"明日"国际杂技节"法兰西共和国总统奖"。山东省杂技团先后出访60多个国家和地区,特别是自上世纪80年代以来,每年在国外演出超千场次;风雨兼程60余载,培养出了一大批优秀杂技人才,创作出了一大批精品杂技剧(节)目。
Three-time Golden Clown Winner: The Shandong Acrobatic Troupe
Acrobatics have been part of the Chinese arts for over 2,000 years and are thus a treasured aspect of China's outstanding cultural heritage. The Shandong Acrobatic Troupe is a world-class organization that was founded in June 1959. Based on tradition but by no means limited to old acts, the troupe has learned from outside influences and mastered its craft, which is always full of creativity and innovation, to fully express what is beautiful, difficult, novel, and odd in the art. Having gradually developed their own artistic style, they are well-reputed globally, having won over 70 awards and honors from China and abroad, 14 of which were the top prizes. Their classic performances, Wooden Benches, Cycling Acrobatics, and Man Juggling, respectively won the Golden Clown award at the 10th, 21st, and 34th International Circus Festival of Monte-Carlo. Man Juggling also won the French Republic Presidential Award at the World Festival of the Circus of Tomorrow in 2007. The troupe has performed in over 60 countries and regions. Since the 1980s, they have put on over 1,000 performances abroad annually. After 60 years of hard work, the troupe has fostered numerous highly skilled performers and developed a great number of amazing acts.
主要代表剧(节)目有《聊斋遗梦》《因为爱》《交响杂技》《蹬板凳》《蹬人》《车技》《草帽》《转碟》等。
杂技剧《因为爱》是一部以爱情为主的时尚杂技舞台剧。该剧通过精美绝伦的杂技技巧展现了青年男女之间纯美的爱情故事,同时融入了绘画、戏剧表演等艺术形式,向观众呈现了一场艺术盛宴。
The troupe's biggest acts are Dream of Romance in the Liao Study, Because of Love, Symphonic Acrobatics, Wooden Benches, Man Juggling, Cycling Acrobatics, Straw Hat, and Plate Spinning.
Because of Love is an acrobatic drama about a love story. By means of unparalleled acrobatic skill, the drama portrays the pure love between a young man and a young woman. Imagery is also integrated to give the audience an amazing feast for the eyes.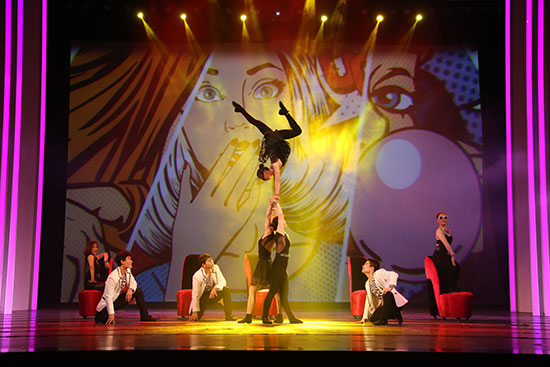 《车技》节目以高难度技巧和精彩的表演,给观众以美的艺术享受。"三飞车""双肩提""站把"和"十七人孔雀开屏"等表演一环扣一环,紧凑、连贯,高潮迭起。
Cycling Acrobatics provides the audience with the enjoyment of beautiful art through a performance full of difficult and brilliant feats of skill. The parts in the show called "Three Flying Bikes," "Standing," and "17-Woman Peacock" are well-connected and keep the audience on the edge of their seats with one climax after another.